Perhaps you believe that your pain isn't severe enough to schedule a visit to a physical therapist or that it will go away. However, getting treatment early on can help you get back on your feet and fully recover in a much shorter period.
If you're looking for a trusted physical therapist in Wayne, PA, Primal Physical Therapy offers all residents a full spectrum of care. In addition, we will work with you and your support system to find a therapy plan to help you recover faster!
Conveniently located just a short drive from Wayne, PA
Have trouble standing, walking, or moving around? Don't let a minor ache become a major injury! Don't wait any longer if you've been dealing with a strain, sprain, ache, or pain. 
Let our professional therapists at Primal Physical Therapy help you recover and facilitate your healing.
Why Work With Us
At Primal Physical Therapy, we provide exceptional care, trusted expertise, and remarkable results tailored to your specific recovery needs and healing conditions.
Our therapists are highly professional and experienced.
Our therapists, JJ Thomas and Eric Abramowitz, both hold multiple certifications and are recognized experts in the field of physical therapy. With extensive training and hands-on experience in various therapy treatments, you can be most confident that you'll receive the best care with them handling your therapy. 
Meet our Physical Therapists
Our team is excited to meet you at our new Bryn Mawr location!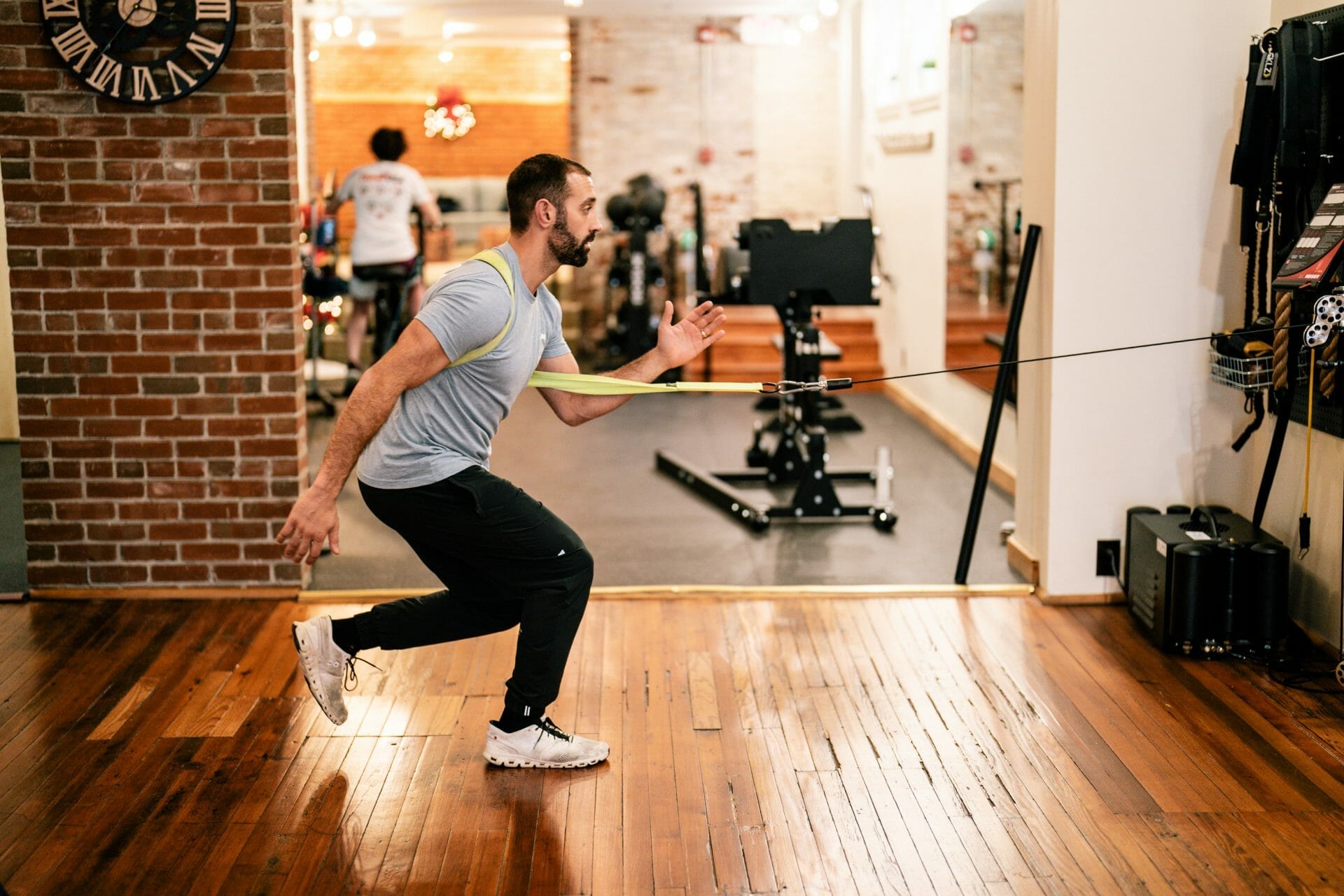 We provide a range of specialized therapy services.
Sports injuries, work injuries, chronic conditions, or persistent pain? We develop specialized treatments to help our patients recover faster and get back to what they love. Our treatments include laser therapy, shorts rehab, gait analysis, dry needling, and more!
Convenient appointment booking
Our online booking system gives you the freedom and flexibility to set up your appointments online at the time that is most convenient for you! You can also book your preferred therapists and the treatment you need through our online booking system. 
Our Physical Therapy Treatments in Wayne, PA
Whether you're recovering from sports injuries, neurological and cardiopulmonary conditions, or need to improve your balance, you can always trust the expert team at Primal Physical Therapy to work through your challenges and coach you to recovery.
Movement Analysis

Movement-related abnormalities can be caused by a past or existing injury, but they can also occur without an injury. These conditions may result in pain or difficulty balancing. Our movement analysis treatment at Primal Physical Therapy allows us to fix the source of the problem rather than just treating the symptom. 

Gait Analysis

Repetitive stress injuries that happen when doing things like running or walking are often caused by a lack of flexibility, strength, or stability. Our physical therapists will conduct a gait analysis, inspecting all aspects of your gait from head to toe at all stages of the gait cycle and comparing the results to a detailed movement analysis.

Dry needling treats muscle tissue pain, activating trigger points and restoring function. We use a thin monofilament needle in dry needling treatment to puncture the skin and treat underlying muscular trigger points.

Laser therapy uses a therapeutic dose of light to promote cellular healing and reduce inflammation. At Primal Physical Therapy, we use Class Four Laser- the most advanced technology on the market, enabling us to safely and effectively treat areas with open wounds, such as post-surgical incisions.

Blood Flow Restriction Therapy allows patients to gain strength while lifting lighter loads, reducing overall stress on the limb. This treatment benefits athletes recovering from injuries such as sprains, strains, and tendonitis, as well as patients needing post-operative physical therapy.

Sports Rehab

From shoulder injuries to severe ACL tears, no two sports rehab programs are the same. After thoroughly examining and evaluating your injuries, we create a sport-specific rehab program for each individual. Whether recovering from an injury or trying to strengthen your skills, our sports rehab program can help you reach your peak performance.

Postural Correction

Posture correction treatment aims to correct any muscle imbalances causing pain symptoms. With the help of our therapists, you will be given exercises tailored to your needs and will use strength training to reinforce these gains in range of motion.

Golf Swing Analysis

It's time to restore precision in your body and your golf swing. Our goal is to help golfers increase their performance and avoid injury on the course. Moreover, we will provide our patients with resources to help them develop a foundational exercise program to advance their swing.