When you have an injury, it can change the way you walk or run. The injury alters your regular asymmetrical running or walking gait pattern, resulting in musculoskeletal problems. If you ignore this problem for too long, it can put undue strain on your health.
When completing physical therapy for an injury or a chronic condition, one of our physical therapists may include therapeutic exercises in your treatment plan. Eric or JJ will consult with you, examine your condition, and develop with you therapeutic exercises designed to enhance your healing and functional capacity.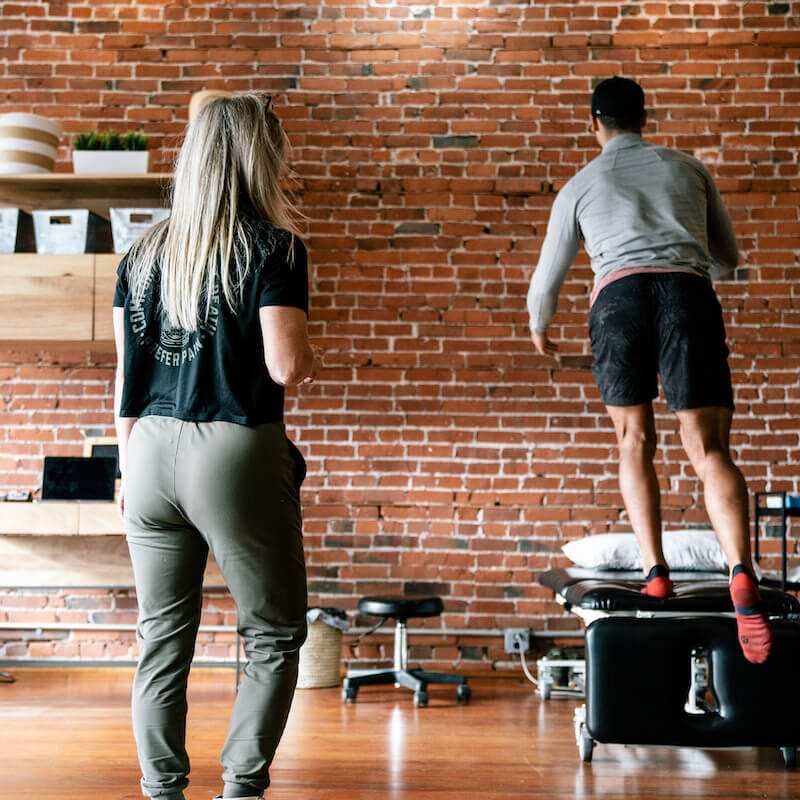 What is Movement Analysis?
Movement analysis assesses how you move to identify potential areas of improvement. It can help you recover from an injury and prevent future injuries from happening again. A physical therapist can gather comprehensive information about a patient's mobility with 3D computerized analysis, video, force measurements, and EMG equipment.

In most cases, a physician requests movement analysis for pain, damage, or immobility and wants the expert opinion of a physiologist. Following the initial evaluation, a physical therapist will likely prepare a report that the referring physician can use for a more accurate diagnosis.
How Can Movement Analysis Help Me?
Movement analysis is typically requested by a physician or serious athletes trying to break through a plateau. Among the primary reasons for the importance of movement analysis include the following:
Athletic Performance
If you're an athlete, movement analysis can identify sports-specific training, such as resistance training, that can improve your performance. Coaches and sports technicians are constantly concerned with movement analysis, from proper positioning to proper posture exercises.
Moreover, athletes may go through movement analysis if they notice that their performance or speed is not advancing as quickly as they would want. In these situations, movement analysis can assist in determining whether a minute movement that cannot be seen with the human eye is impeding development.
Pain and Discomfort
Most likely, your doctor will recommend a movement analysis because you have pain from one of your movements. Taking the time to understand all of the mechanics involved in a specific action can be beneficial to you and your doctor to figure out what is causing the problem.
Preventing Injury
Movement analysis can help us avoid injuries even in our daily routines, such as sitting at our desks, carrying items, picking up things, etc.
How is Movement Analysis Performed?
Movement analysis helps us identify and measure an individual's motion and force, providing extensive information about movement and potential inefficiencies. Specific sports-related actions are examined based on predetermined criteria for a qualitative assessment (current deficiency) and a quantitative evaluation.
Here is an outline of the movements and criteria that make up the movement analysis test (MAT). This is one tactic to test a movement that must be kept in mind. Six distinct motions are examined as part of the MAT:
The single-legged squat

The deceleration

The drop jump

The frontal hop

The side hop

A direction change
Deficits are measured using five criteria, including:
Limb Stability
This focuses on the ability to coordinate the leg and prevent movements that could harm the joints.
Trunk Stability
This entails the ability to keep the torso under control while it is moving.
Pelvis Stability
This is primarily concerned with stabilizing the pelvis in the frontal plane. The gluteus medius helps maintain the pelvis and prevent the "Trendelenburg gait," when one side of the body falls behind the other while walking.
Shock Absorption
The extent to which an athlete can successfully land softly and disperse the force across their muscles can be determined by visually observing landing mechanics.
Movement Strategy
The acquisition of movement patterns by the patient that favors some muscle groups in the sagittal plane over others is referred to as movement strategy. Patients with weak gluteus maximus may lean forward and place more weight on their knees instead of using a hip strategy that loads the posterior hip muscles.
How Does Primal Physical Therapy Use Movement Analysis?
At Primal Physical Therapy, we use the most effective techniques and exercises and tailor them to your specific needs. By doing so, we speed up your recovery and get you back to enjoying your favorite activities.
We measure our performance based on the outcomes and results of our patients, not on the number of patients we treat. Using our one-to-one approach, we can better understand your clinical background, injury, and pain and design an appropriate treatment plan for you.
Benefits of Working with Primal Physical Therapy
At Primal Physical Therapy, we use the most advanced techniques and exercises to get you back to doing what you love - faster!

We tailor our services to meet your individual needs.

We have a team of experienced and knowledgeable therapists passionate about helping you recover.

We offer a free consultation so that you can learn more about how we can help you.
Contact Us Today for A Free Consultation!
Our aim at Primal Physical Therapy is to help you develop the kind of movement that will enable you to continue performing the physical activities you enjoy without anxiety and costly treatments. We will carefully examine your injury to determine its underlying cause. We'll work closely with you and the rest of your medical team to ensure you receive the best care possible.
Book your appointment with us today!