Experience the transformative power of physical therapy in Manayunk, PA. At Primal Physical Therapy, we are dedicated to helping you find lasting relief from pain, enhancing your range of motion, and getting you back to doing whatever you love most. Our expert team of physical therapists are here to provide personalized, evidence-based treatments tailored to your unique needs.
So, don't let hip, neck, back, or shoulder pain hold you back any longer – schedule a consultation with us and start your journey towards a pain-free, active life. Your body deserves it.
Exploring Our Physical Therapy Services for Manayunk, PA Residents
Physical therapy is a specialized field of healthcare that utilizes various techniques, exercises, and interventions to address musculoskeletal conditions, injuries, and movement impairments. It aims to optimize physical function, reduce pain, and improve quality of life.
These are some of the key benefits you can experience through our comprehensive physical therapy services:
Dry Needling: Relieve Muscle Pain and Tightness
Our expert clinicians will utilize this technique in conjunction with other techniques and modalities throughout your treatment to maximize your recovery. We Utilize dry needling techniques to:
Improve your mobility

Alleviate muscle pain and tightness.
Promote muscle relaxation.

Improve range of motion.

Release Trigger Points 
Running Gait Analysis: Enhance Running Efficiency and Technique
Conduct comprehensive

running gait analysis

to assess biomechanics and identify areas for improvement.

Optimize running efficiency, reduce the risk of injuries, and enhance overall performance.
Movement Analysis: Improve Movement Efficiency and Prevent Injuries
Perform a thorough

movement analysis

to get to the underlying factors that contribute to your injury.

We evaluate patterns, imbalances, and dysfunctions to treat underlying issues that play a role in your injury and recovery.

Develop personalized treatment plans to enhance movement efficiency, prevent injuries, and promote optimal physical function.
Blood Flow Restriction: Optimize Muscle Strength and Growth
Utilize specialized

blood flow restriction

techniques during exercise to promote muscle strength and growth.

Enhance rehabilitation, muscle conditioning, and overall performance outcomes.

Allow us to strengthen joints that don't tolerate heavy loads well, such as arthritic joints, post operative rehab, or inflammed tendinitis or tendinoses. 
Laser Therapy: Accelerate Healing and Pain Relief
Employ advanced

laser therapy

techniques to accelerate tissue healing as well as reduce pain and inflammation.

Enhance the body's natural healing response and promote faster recovery.

Increase blood flow.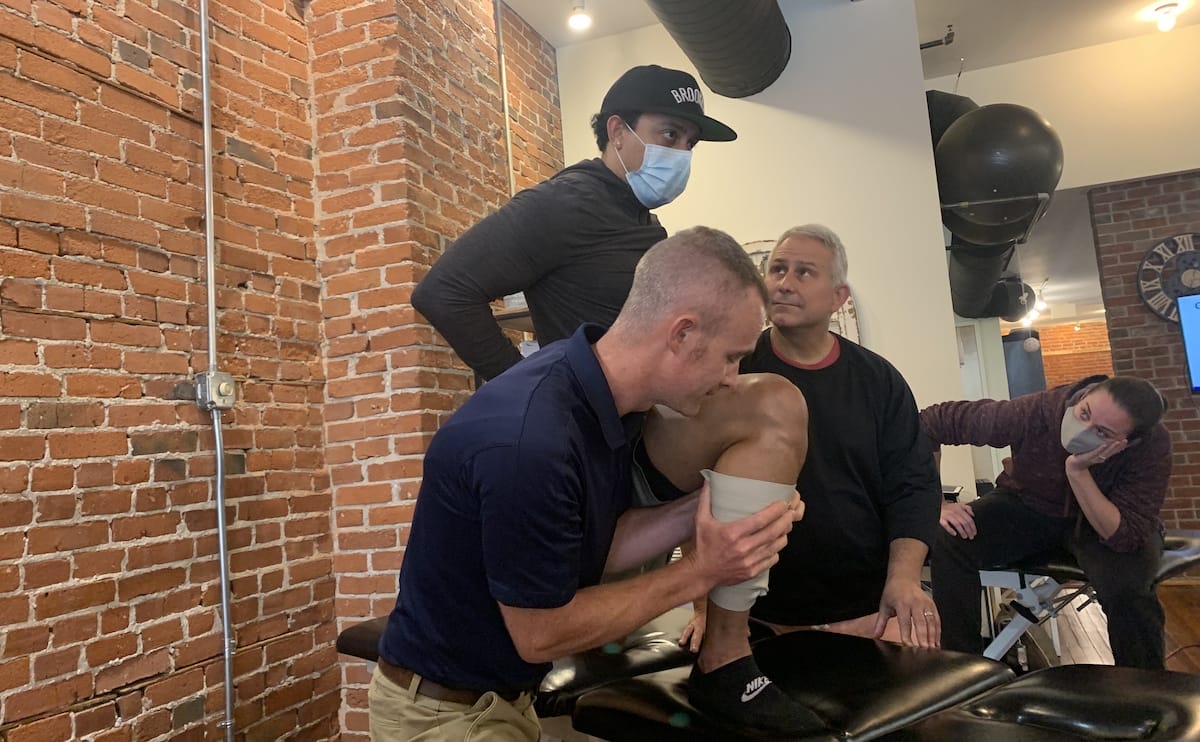 Sports Rehab: Facilitate Safe and Effective Sports Injury Recovery
Provide specialized

rehabilitation programs

tailored to sports-related injuries.

Promote optimal recovery, restore function, and facilitate a safe return to sports activities.

We take pride in developing sport specific programming that not only fosters healthy movement and recovery, but also injury prevention AND performance. 
Postural Correction: Improve Posture and Alignment
Address postural imbalances and deviations to improve overall posture and alignment.

Alleviate pain, enhance functional movements, and prevent future postural-related issues.
Golf Swing Analysis Treatment: Enhance Golf Performance
Perform in-depth analysis of

golf swing

mechanics to identify areas for improvement.

Develop targeted treatment plans to optimize golf performance, prevent injuries, and improve swing mechanics.
Why Choose Primal Physical Therapy: A Highly Recommended Physical Therapy Place in Philadelphia?
We Care Deeply and Put Patients' Needs First
Our compassionate team of therapists provides a supportive and nurturing environment where patients are and feel valued, heard, and empowered throughout their rehabilitation journey. Additionally, we foster patient-clinician relationships built on trust, respect, and open communication. By actively involving patients in their care, and considering their input and feedback, we create a collaborative and individualized treatment plan that empowers them to achieve their desired outcomes.


Results-Driven Approach
We continuously evaluate and modify our treatment approach to ensure progress toward patients' goals and attain the best possible results.


Systematic Process
All of our physical therapists employ a multifaceted approach that includes thorough evaluations, targeted interventions, and ongoing assessments. This structured process enables us to tailor treatment plans specifically to patients' unique needs, providing a clear path to recovery, effective progress monitoring, and the ability to adjust strategies as necessary.
What to Expect During Physical Therapy in Manayunk, PA
At Primal Physical Therapy, we are committed to providing you with the best physical therapy experience in Manayunk, PA. Our process ensures effective treatment, open communication, and successful outcomes. Here's what you can expect during your journey with us:
Discovery
On the very first appointment, we get right down to business and take the time to get to know you and understand your unique circumstances. We gather information about your medical history, listen to your goals and concerns, and identify roadblocks that may be hindering your progress. 


We build a partnership based on trust and collaboration by fostering strong patient-clinician communication. Thus, we take the time to explain our approach, strategy, and expectations clearly and understandably, giving you an understanding of your treatment process and actively involving you in decision-making. 
Comprehensive Evaluation
With our experts guiding you through the evaluation process, we will thoroughly analyze your movement patterns, joint mobility, muscle strength, and functional limitations. We take an integrative approach that addresses not only your current limitation, but other limitations that we find are possibly related to your injury. We make it our priority to comprehensively understand your needs and tailor our treatment accordingly.
Implementation and Treatment
We will implement your personalized treatment plan once we have gathered all the necessary information. We also provide you with exercises and activities to continue at home to support your progress and maximize the benefits of in-office sessions. Our therapists are accessible to address any questions or concerns that may arise between sessions.
Retention of Results
At the culmination of your treatment, we provide key correctives, including exercises or programs tailored to your needs. These correctives are designed to help you maintain your gains and prevent the resurfacing or recurrence of injuries.
Prevention
By utilizing movement-based assessments, we can identify dysfunctions and potential issues before they manifest as pain or injury. We offer movement screenings to help you prevent the recurrence of injuries and proactively maintain your overall well-being.
Meet our Physical Therapists
Our team is excited to meet you at our new Bryn Mawr location!
Take the Next Step Towards Complete Recovery Today
If you're seeking effective and personalized physical therapy services in Manayunk, PA, Primal Physical Therapy is here to help you achieve your goals. Our pledge to you is that you'll feel the respect we have for you and that we will make your priorities our priorities.


 We treat you like family, advocating and ensuring you receive the highest level of care possible every step of the way. 


Contact us now and let Primal Physical Therapy be your partner on your path to optimal health.