Experience the transformative power of physical therapy in Bala Cynwyd, PA, with Primal Physical Therapy. Our dedicated team of experts is here to help you recover from injuries, reduce pain, and regain your strength and mobility. With personalized treatment plans and cutting-edge techniques, we are committed to getting you back to doing what you love faster and more efficiently.
Regain your freedom of movement and live life to the fullest. Give Primal Physical Therapy a call today so you can get back in the game.
Expert Physical Therapy in Bala Cynwyd, PA, for Enhanced Recovery and Performance at Primal Physical Therapy
Our primary focus is helping you achieve enhanced recovery and performance, allowing you to excel in your physical endeavors. With our comprehensive range of specialized services, experienced team of professionals, and knowledge of sports medicine, we are dedicated to guiding you toward optimal health, function, and athletic potential.
We are proud to offer these physical therapy services in Bala Cynwyd, PA, and other convenient locations:
Gait Analysis
Our expert physical therapists will conduct a thorough gait analysis, examining every aspect of your gait from head to toe throughout the entire gait cycle. This detailed evaluation is compared to a comprehensive movement analysis, helping us identify critical limitations in range of motion and strength. 
By addressing and correcting these individualized limitations, we can significantly improve your gait mechanics, enhancing your overall movement patterns, which will both expedite your recovery from any current injuries, and reduce the risk of future injuries.
Movement Analysis
Movement analysis plays a pivotal role in injury recovery, allowing us to address the root cause of the problem rather than just treating the symptoms. Focusing on the underlying issues, we can develop a personalized treatment plan to improve your functional abilities, optimize performance, and support your long-term well-being.
Blood Flow Restriction Therapy
Blood flow restriction (BFR) therapy involves the brief and controlled restriction of venous blood flow using a tourniquet while performing specific exercises. This innovative treatment method allows patients who experience pain, inflammation, fractures, or recent surgeries to exercise under lower loads while reaping the benefits of higher-intensity activities. 
BFR therapy is highly effective for athletes recovering from injuries such as sprains, strains, and tendonitis and patients requiring postoperative physical therapy. We've had great success using BFR for patients with hip pain, knee pain (especially Osteoarthritis), ankle pain, Achilles Tendinitis, Rotator Cuff Tendinitis, tennis elbow and golfer's elbow. 
We have also found it gives patients and athletes a jump on recovery and healing when used post operatively and/or while immobilized to heal fractures.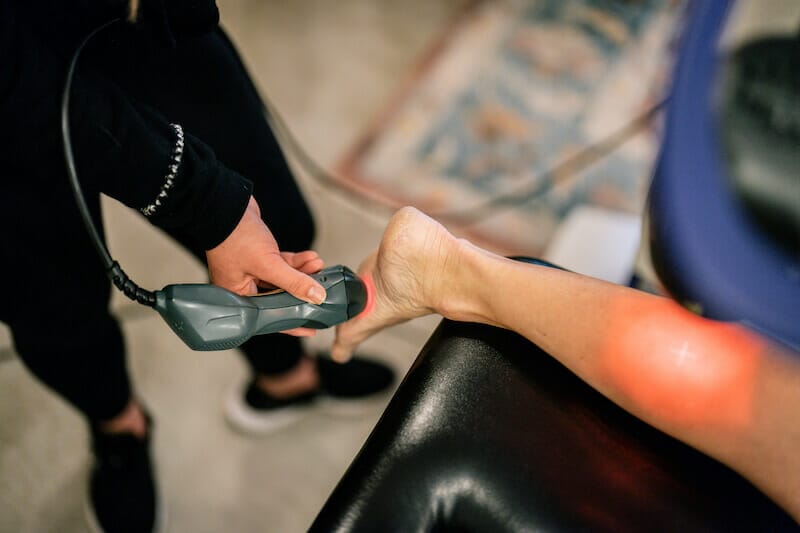 Laser Precision Therapy
Our therapeutic laser (Advanced Class Four Laser technology) effectively treats various soft tissue injuries, including sprains, strains, tendonitis, tendinopathy, and plantar fasciitis. Additionally, laser precision therapy has shown excellent results in promoting the repair of bone injuries such as fractures and arthritis.
Sports Rehab 
Whether you're a professional athlete or a weekend warrior, we design personalized sports rehab programs to address any of your sports related injuries, such as knee pain, restoring function and helping you return to your active lifestyle.
Postural Correction
With these exercises and strategies, we aim to empower you to take control of your posture and experience the long-term benefits of improved alignment, reduced pain, and enhanced functional abilities:
Strengthening exercises targeting weak muscles to promote better posture and support

Stretching routines to improve flexibility and relieve tension in tight muscles

Core stabilization exercises to enhance overall postural stability and balance

Ergonomic recommendations for proper body alignment during sitting, standing, and other activities

Customized home exercise programs tailored to your specific postural needs and goals
Golf Swing Analysis Treatment
Dr. Eric Abramowitz, our physical therapist, specializes in optimizing the connection between your body and golf swing. Dr. Eric will assess and address your individual movement patterns through a comprehensive evaluation, ensuring an efficient golf swing and consistent ball striking.
This evaluation and treatment approach aids in injury prevention but also helps improve fundamental movements necessary for a successful golf swing.
Unlock the Primal Advantage: Why Primal Physical Therapy Stands Out
From our highly skilled clinical team to our advanced treatment approaches, discover the unique advantages that make us the trusted provider in the field of manual therapy:
Personalized Treatment Plans
Your journey to recovery is unique, and we recognize that. Our physical therapists –– Dr. JJ Thomas, Dr. Eric Abramowitz, and Dr. Jessica Calderón –– create customized treatment plans tailored to your specific needs and goals. By focusing on your condition, we ensure you receive the most effective and targeted care available.
Experienced and Knowledgeable Staff
Our team consists of highly skilled and experienced physical therapists who are dedicated to helping you achieve optimal results. With their expertise and deep understanding of the human body, you can have confidence that you'll receive exceptional care.
State-of-the-Art Facilities
We have invested in state-of-the-art facilities and advanced equipment to support your healing and rehabilitation process. Our modern technology allows us to deliver the highest standard of care, facilitating faster recovery and improved outcomes.
Meet our Physical Therapists
Our team is excited to meet you at our new Bryn Mawr location!
Get Back in the Game with Primal Physical Therapy Today
Experience the personalized care and advanced physical therapy in Bala Cynwyd, PA, to help you regain strength, mobility, and overall well-being. Take control of your health and embark on a transformative journey with Primal Physical Therapy. 
Schedule your appointment today and take that important first step toward a more vibrant future.