If you're starting your recovery journey with a physical therapist for the first time, it is completely natural to wonder what to wear to physical therapy.
The answer is easy. Comfort is critical – wear comfortable clothing that is easy to move around in and choose appropriate footwear.
To choose clothing that allows you to make the most of your time with your therapist and will enable them to evaluate your injured area accurately, you will want to ask yourself these questions:
Will I be comfortable, and can I easily perform exercises in these clothes?
Can my therapist easily see and access my injured area?
Do my clothes restrict my range of motion at all?
Here Is What To Wear To Physical Therapy
Typically, for injuries involving the lower body, a pair of comfortable exercise shorts that are loose-fitting and can be adjusted easily to access the musculature and joints when evaluating will work perfectly.
For the upper half of the body, often loose-fitting clothes like a t-shirt will suffice, but women may want to come prepared with a sports bra or tank top that would allow the therapist to see the scapular region and thoracic spine as well.
Regardless of your injured area, it helps to make sure your entire outfit is comfortable and easily moved around.
For example, you may be thinking, I have a shoulder injury – why does the type of pants I wear matter?
Or I have an ankle injury – why does the type of shirt I wear matter?
Often, isolated injuries cause other parts of the body to compensate. So, your physical therapist may want to diagnose other parts of your body.
An example of this might be if your therapist needs to evaluate your entire spine to assess a pain in the hip, or they may need to access your gluteal region to assess what's happening at your lower leg.
If you're still feeling unsure of what to wear to physical therapy, feel free to bring a change of clothes or multiple options with you on the evaluation day.
Trust me; the therapist will appreciate that you are planning ahead for your own success, and it will be worth your time, in the long run, to prepare for your physical therapy appointment.
To summarize, here are some ideas of clothing that are safe to wear to physical therapy:
a loose-fitting, comfortable t-shirt or tank top
athletic shorts
leggings, yoga pants, or workout pants – something with an elastic waistband
proper footwear (athletic shoes, sneakers, running shoes, etc.) with socks
Special Considerations
Footwear:
If you are a runner or athlete of any kind, bring the shoes you wear to train.
Bring the last pair you "wore out" if you recently bought brand new ones. If your job requires you to be on your feet a lot, bring the shoes you wear most often to work. Footwear can often play a significant role in overuse injuries.
They can also reveal a lot about how you move when you're working, training, or moving throughout the day. Your therapist may want to look at your shoes' "wear pattern." Evaluating wear patterns can help identify the sources of your injury.
Equipment:
If you play a sport or occupation that uses equipment (like a racquet, stick, or other tools), and you recently made modifications to that equipment or bought new equipment, mention this during your physical therapy appointment or bring the equipment to compare.
Changes in gear and equipment can often be another source of trouble for the body. Sometimes we need time to adapt to new equipment, so this might be a factor in diagnosing your injury.
What Should You Wear For Dry Needling Therapy?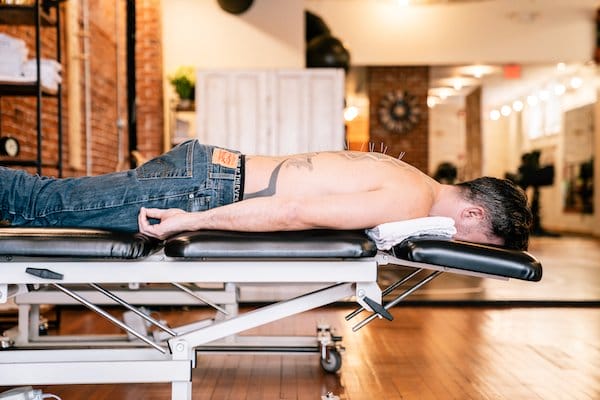 For a therapist to effectively treat an area with dry needling, he/she/they will have to be able to access the skin directly. Therefore, when Physical Therapists integrate dry needling in their practice, they will utilize a clean needle technique.
The clean needle technique utilizes single-use, sterile, solid filament needles. It requires that they effectively clean the skin over the area to be treated using ethyl alcohol and maintain a clean field throughout the treatment. The patient must wear clothing that is easily moved around or loose-fitting to do this.
Remember that skilled therapists often may find connections with regions remote from your painful site, so come prepared with options for the upper and lower halves of the body regardless of your injury.
What Should You Wear For Laser Therapy?
Laser Therapy uses light to penetrate the skin. It is an excellent way to facilitate healing on the surface (for treating wounds and scars) and in the underlying muscles, bones, joints, and ligaments/tendons.
The light waves will penetrate the skin, but not clothing. Suppose you expect to receive laser therapy during your physical therapy session. In that case, you will want to come prepared with loose-fitting clothing options so that the laser can effectively reach the tissue of the injured area.
What NOT To Wear To Physical Therapy
This section may be more important than the ones above.
Wearing the wrong attire to your physical therapy appointments can limit your therapist's ability to provide a thorough evaluation and treat important areas on the first day and ultimately set back your progress. As mentioned before, the most important things to avoid are restrictive clothing that hinders your range of motion, ability to move freely, and exercise.
Here are some clothes to avoid wearing to physical therapy:
tight clothing
dress shoes or heels (unless you work in these and would like to bring them to show the therapists your "norm")
work clothes or business suits
dresses or skirts
Jeans
Remember, you can always wear any of the above clothes and bring a set of extra clothes that will allow you to be properly evaluated and treated in your session.
Conclusion
Congratulations! After reading this article, you're already one step closer to being ready for your physical therapy treatment.
It is important to note that the information found in this article also applies to your first physical therapy appointment.
Clinical research and experience have shown that patients like you who are active participants in their recovery have the best outcomes. The fact that you took the time to read this is a sign that you will have a great outcome in physical therapy. Because it shows, you are motivated to get better, investing in your health, and taking ownership of the role(s) you can play to speed up your recovery.