Comprehensive Care for All Your Ardmore Physical Therapy Needs
Being unable to move comfortably or to the best of your abilities can be extremely difficult and frustrating –– routine activities such as household chores and recreational activities can be challenging to complete. Primal Physical Therapy can help get you back in motion and feeling better quickly.
At Primal Physical Therapy in Ardmore, PA, we are devoted to assisting you in your recovery process so that you can get back to the activities and passions that bring joy into your life. From healing from an injury or managing chronic pain to improving strength and flexibility, our knowledgeable physical therapists will provide a personal touch when devising a tailored plan!
Our Convenient Location for Ardmore Residents
Situated on West Lancaster Avenue, we are delighted to offer Physical Therapy services to Ardmore residents. Step into our newly renovated clinic and marvel at our cutting-edge equipment and technology. Our highly skilled clinical team can't wait for you to come in so they can assist you with your recovery - quickly getting back out there doing what makes you happy!
Call today or schedule an appointment online for your recovery consultation!
Physical Therapy Treatments in Ardmore, PA
An injury is not just an isolated incident—the entire area in which the injury occurred will be affected somehow. Common injuries that would require physical therapy include:
Sports-related injuries

Repetitive motion injuries, such as carpal tunnel syndrome

Postoperative rehabilitation following knee or hip replacement

Surgery, neck, and shoulder problems due to muscle strain or poor posture

Chronic pain conditions, such as fibromyalgia

And more!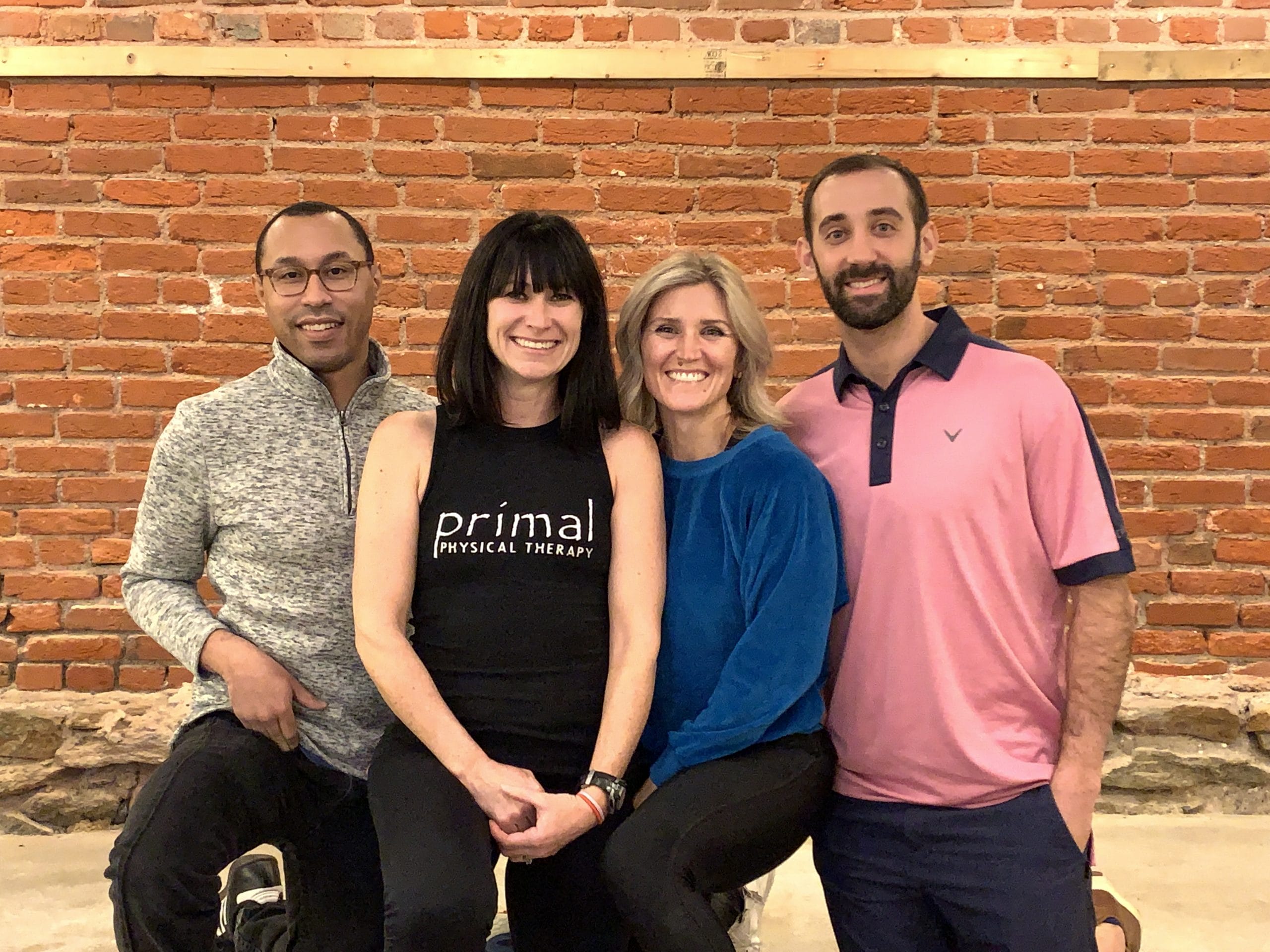 At Primal Physical Therapy, we strongly believe that no two injuries are the same. That's why each person's physical therapy plan must be tailored to their individual needs –– a client receives one-on-one care. 
Our customized physical therapy programs aim to get you back to your daily routine faster and prevent future injuries. That means restoring your strength, flexibility, and endurance while reducing pain. Our physical therapy treatments in Ardmore, PA include:
Movement Analysis

To get you on the road to recovery faster and help prevent future injuries, we provide a comprehensive movement analysis of your body. From this assessment, we can gain insight into how and why you got hurt so that we may identify any underlying issues or deficiencies that need attention.

Our Ardmore Physical Therapy clinic is proud to offer Blood Flow Restriction (BFR) treatment, a modern manual therapy technique that uses light elastic wraps. BFR works by compressing the muscles and reducing blood flow, allowing them to respond more efficiently in less time.

During a BFR therapy session, we apply a surgical-grade tourniquet to reduce blood flow in the limb and let the brain think it's exerting itself more than usual. This way, you can achieve maximum strength gains without training at high intensities.

Dry Needling

Dry Needling involves inserting tiny filament needles into your specific muscular trigger points. This can be an extremely beneficial supplement to traditional physical therapy exercises, as it helps patients reduce pain and inflammation, enabling them to resume mobility quickly. In addition, this type of therapy facilitates the body's natural healing mechanisms by promoting regenerative processes that speed up recovery.

Dry Needling is a revolutionary treatment used to:

Alleviate tight muscles

Decrease muscle spasms and tension

Reduce scar tissue in injured areas of the body for better recovery

Enhance circulation

At Primal Physical Therapy, we only use the most cutting-edge, FDA-cleared Class Four Laser available. Thus, you'll have peace of mind that our laser energy is safe and effective in assisting your body to heal quicker than ever! 

Laser Therapy offers a host of healing benefits, such as the following:

Reducing inflammation and pain

Increasing blood circulation to injured areas

Promoting tissue regeneration

Enhancing the body's natural healing process

We offer individual sessions with our experienced clinical team or monthly packages to make your recovery process as easy and convenient as possible!

Injuries are an inherent risk of any sport, regardless of the athlete's skill level. While certain sports may increase one's likelihood of a particular type of injury, no two injuries are identical. Hence, our goal is to provide each athlete with the most successful treatment possible.

Our skilled team of Physical Therapists and sports medicine specialists will collaborate with you, ensuring a swift recovery and your return to the activities you love. From acute to chronic pain, we provide tailored treatment plans combined with an empathetic atmosphere so you can get back out quickly at full strength!

Eric Abramowitz's Primal Golf Swing Analysis Program is the perfect fit for you if you are struggling with a golf-related injury. His expert analysis and treatment program will provide at-home drills, exercises, and stretches to help heal your injuries while offering long-term sustainability on or off the greens. With his support, you can have confidence that he will address any golfing-related pain you have permanently!
The Keys to Our Success
Primal movements serve a functional, purposeful and efficient role in creating success with physical tasks while minimizing your risk of injury. Sadly, the demands and structure of modern society have distorted these pure movement patterns, making us increasingly vulnerable to accidental harm.
Primal Physical Therapy provides cutting-edge exercises and strategies to suit your unique physical needs. This is how we assist in quickly getting you back on track:
Diagnosis:

Identifying the origin of an issue is essential to achieving a lasting resolution.

Blending traditional treatments with new practices:

Our revolutionary methodology combines the most successful treatments we've administered for two decades with modern techniques and technologies.

Our philosophy:

Our definition of success lies in our patient's progress and results, not in the number treated. The individualized approach to therapy allows us to thoroughly comprehend your past injuries, discomfort, and route to recovery.
Meet Our Physical Therapists in Ardmore, PA
Dr. JJ Thomas, MPT, CMTPT, and Dr. Eric Abramowitz, DPT, are equally knowledgeable, attentive, and always striving to provide the highest-quality care for all our patients! Both and the rest of the staff are all excited to meet you at our Ardmore, PA, location!
JJ Thomas, DPT, MPT, CMTPT
JJ's expertise as a physical therapist spans more than two decades, and her enthusiasm for movement has been instrumental in helping shape her into the successful clinician and educator she is today. Her unique experiences have equipped her with invaluable insight to bolster these key roles even further.
Eric Abramowitz, DPT
With a passion for athletics and personal experience of the benefits high-quality care provides, Eric developed an interest in Physical Therapy. He was rewarded with acquiring his Doctorate from the University of Delaware –– ranked #1 nationally for its Physical Therapy school –– in 2012.
I would recommend Primal PT to friends and family. After one session, I received detailed instruction that suited the needs of my body to become stronger. I have been too many PT's in the past. This was the first time I received this type of detailed one on one attention/instruction.
eleazar morris
June 16, 2022.
Nothing else was working to alleviate my pain - not chiropractic, accupuncture, massage, yoga, etc. The first day I met Eric he said he knew what was wrong and was confident he could treat the issue. He was correct. I avoid leaving reviews, but I'll happily leave this review for Eric.
Annalisa Donnelly
May 24, 2022.
I took care of patients many years ago and sometimes had to perform surgery. Having said this it wasn't so long ago that I couldn't render an opinion. JJ is the perfect combination of clinical expertise and compassion. She will listen to you and get to the root of the problem quickly. Best of all, she's clinically bright enough to show you compassion and provide the much needed boost to get you healed and on your way. She will never stand in the way of your fitness goals and yet her clinical advice has always been so highly valued. JJ loves what she does and does what she loves. Enough said😊
James Decker
May 2, 2022.
Amazing appointment- knew exactly how to help my lower back issues with dry needling and exercises. Excited to go back
Grant Kircher
January 29, 2022.
As an active competitor in BJJ in my late 20s, I understand injuries are going to happen but the team at Primal Physical Therapy have been excellent with getting me back on the mats. I typically work with Eric. He really takes the time to understand my activities and goals to personalize my treatment. He is also extremely knowledgeable of the human anatomy and keeps it real by providing honest feedback throughout my treatment. Overall, it is a great experience to work with their team and I highly recommend checking them out.
Great first meeting! JJ took the to learn about me, my background and my goals. She is a skilled professional and very perceptive in her assessments. JJ is a nice person and I look forward to working with her.
Pat Quirk
January 4, 2022.
Primal is unlike any physical therapy office I've ever been to. As athletes themselves, JJ and Eric have the personal experience - in addition to their vast clinical knowledge - to relate to their patients and develop very personalized treatments. For a CrossFit and jiu-jitsu hobbyist, there are no scheduled off-seasons, so I count on Primal to help me stay healthy year round. In addition to being excellent PT's, JJ and Eric are also great people who I trust wholeheartedly.
Brandy Leinhauser
December 30, 2021.
Zach Green
December 26, 2021.
Primal Physical Therapy is awesome! Best physical therapy office in the area. I have had many injuries being a professional athlete and Primal PT has helped me recover the fastest and helped keep me out of pain. Months ago I was dealing with a low back injury and thanks to Eric & JJ I am now out of pain. After getting me out of pain they have helped unlock my body and increased my mobility allowing me to achieve a higher level of athleticism. Both Eric & JJ have extensive knowledge of the human body and they both have a heart of gold. They take the time with each patient to assess their situation & address any concerns. Since receiving treatment I have sent many of my friends, family members, and students to Primal Physical Therapy and they all have had an amazing experience. If you are looking for Physical Therapist I would highly recommend JJ & Eric at Primal Physical Therapy.
Dylan Royce
December 22, 2021.
After one visit I left feeling better physically and mentally, optimistic about a productive recovery plan with Eric. His analysis and treatment was thorough and personalized with plenty of feedback and support along the way. Highly recommended.
Ardmore Physical Therapy FAQ
Fortunately, our therapists are officially approved direct access providers in Pennsylvania. This enables them to work with you for up to 30 days without your doctor's prescription! Afterward, however, a written prescription from your medical provider will be necessary.
At our cutting-edge facility, your physical therapist will evaluate your condition and create a tailored program to help you reach your goals. As part of the treatment process, we provide hands-on therapy sessions and guidance on exercises and rehabilitative techniques that can be done from the convenience of home.
While it is up to you whether or not you take part in the recommended physical therapy home exercises, we will instruct and guide you through them. Committing yourself to these at-home drills will expedite your progress toward achieving your desired outcomes with much more satisfaction.
On the contrary! Starting treatment as early as possible increases your odds of being pain-free or avoiding future flare-ups!
Absolutely! We understand the importance of personalized care and offer 1-on-1 meetings with your therapist.
Regain Your Natural Ability To Move Today!
At Primal Physical Therapy, we strive to help you regain your natural ability to move and feel better. Our attentive physical therapists in Ardmore, PA, are here to listen and understand your individual needs so that we can create an effective treatment plan tailored for you. Call or schedule online to get started on the road to a healthier you!