At our physical therapy clinic, we provide the best care for patients recovering from surgery and sports-related injuries. We offer blood flow restriction therapy, laser therapy, sports rehabilitation, dry needling, and postural correction. Our goal is to help our patients recover quickly and safely so they can return to their active lifestyles.
If you are in need of physical therapy services in Villanova, PA, please contact us today to schedule an appointment. We look forward to helping you on your road to recovery!
Conveniently located just a few miles from Villanova, PA
Our team looks forward to meeting you and assisting in your recovery at our modern, warm, and welcoming location!
Call today or schedule an appointment online for your recovery consultation!
What sets us apart
At our physical therapy clinic near Villanova, PA, we pride ourselves on providing individualized care for each of our patients. We believe that every patient is unique and deserves a customized treatment plan that meets their specific needs. We also offer a wide range of services so that we can provide the most comprehensive care possible.
An injury is not just an isolated incident—the entire area in which the injury occurred will be affected in some way.
The goal of our customized Villanova physical therapy programs is to get you back to your daily routine faster and prevent future injuries. That means restoring your strength, flexibility, endurance, and reducing your pain.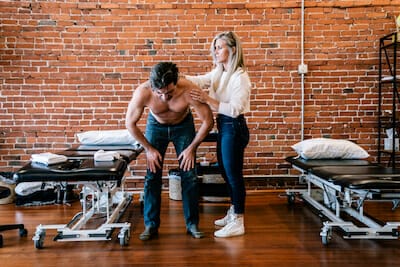 Why choose us for your Villanova Physical Therapy
When you choose Primal PT, you can be confident that you are receiving the best possible care. We offer a wide range of services and our therapists are experienced in treating a variety of conditions. We also use the latest techniques and equipment to ensure that our patients receive the most effective care possible.
Who we help
We treat a wide variety of patients. We see patients who are recovering from surgery, sports injuries, and other conditions that cause pain or mobility issues. We also work with patients who are looking to prevent injuries by improving their strength and flexibility.
No matter what your situation is, we can help you improve your health and quality of life!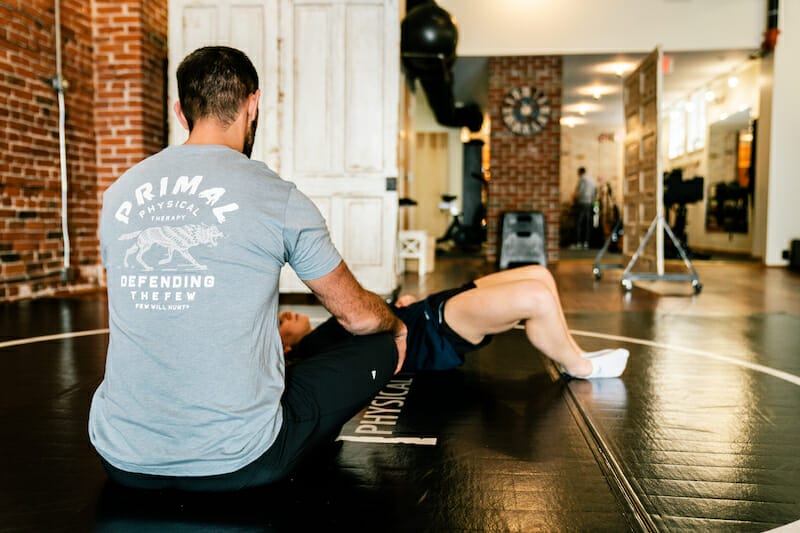 Our Villanova Physical Therapy Specialties
At Primal Physical Therapy, we offer a wide range of services. We specialize in blood flow restriction therapy, laser therapy, sports rehabilitation, dry needling, and postural correction. We also offer general physical therapy services such as exercise programs, manual therapy, and electrical stimulation.
Blood flow restriction therapy is a type of exercise that uses special bands to restrict blood flow to the muscles. This type of therapy has been shown to be very effective in improving strength, endurance, and muscle size.

During a BFR treatment session, a surgical-grade tourniquet is utilized to limit blood flow to part of the limb, imitating severe injury without actually causing tissue damage. The result is a muscular pump that forces more nutrients and oxygen into the working muscles, leading to improved strength and size.

BFR therapy is a safe and effective way to improve strength and muscle size. It can be used for patients of all ages and fitness levels.

Dry Needling

Dry needling is a type of therapy that uses thin needles to stimulate trigger points in the muscles. This type of therapy can be used to treat a variety of conditions such as muscle pain, tendonitis, and headaches.

Dry needling works by causing the muscle to relax and release the tension that is causing the pain. This type of therapy is often used in combination with other physical therapy methods.

Laser therapy is a type of treatment that uses low-level lasers to stimulate healing and reduce pain. This type of therapy is often used to treat conditions such as arthritis, tendinitis, and carpal tunnel syndrome.

Laser therapy is a non-invasive, pain-free treatment that can provide significant relief for many conditions and is also known to help scar healing.

Sports rehabilitation is a type of physical therapy that is specifically designed to help athletes recover from injuries. We offer a wide range of sports rehabilitation services such as strength training, injury prevention programs, and recovery programs.

Postural Correction

Postural correction is a type of physical therapy that is designed to improve your posture. This type of therapy can be used to treat a variety of conditions such as back pain, neck pain, and headaches.
Meet our Physical Therapists
Our team is excited to meet you at our new Bryn Mawr location!
Tara Siddons
February 16, 2023.
I had dry needling done on my very painful/stiff frozen shoulder. I don't fully understand the science on how it, BUT IT WORKS!! My range of motion improved greatly after 1 session. I was honest to God in shock when Eric rechecked my range of motion after the dry needling. Absolutely amazing!! Thank you so much, Primal!!
Turin Pollard
February 9, 2023.
Eric and JJ are fantastic, professional, dedicated and knowledgeable. They focus on each patient individually, and customize the treatment to your goals, limitations and abilities.
Holly Goodman
January 11, 2023.
Friendly, knowledgeable staff and very efficient!
T Wahoo
December 8, 2022.
Eric was extremely thorough and knowledgeable! I was struggling with hip bursitis and Eric was able to loosen/manipulate the hip socket and dry needle the area. My range of motion has already improved and I just had my first visit this morning. Highly recommend!
Caitlin Gee
August 20, 2022.
Eric explained everything clearly and thoroughly. He gave me my diagnosis respectfully and in a matter of fact way that helped me feel optimistic on the way out of my appointment.
Lisa Horning
August 9, 2022.
Within a few short weeks, my debilitating neck pain is nearly gone. Eric is the consummate professional and very skilled.
I would recommend Primal PT to friends and family. After one session, I received detailed instruction that suited the needs of my body to become stronger. I have been too many PT's in the past. This was the first time I received this type of detailed one on one attention/instruction.
eleazar morris
June 16, 2022.
Nothing else was working to alleviate my pain - not chiropractic, accupuncture, massage, yoga, etc. The first day I met Eric he said he knew what was wrong and was confident he could treat the issue. He was correct. I avoid leaving reviews, but I'll happily leave this review for Eric.
Annalisa Donnelly
May 24, 2022.
I took care of patients many years ago and sometimes had to perform surgery. Having said this it wasn't so long ago that I couldn't render an opinion. JJ is the perfect combination of clinical expertise and compassion. She will listen to you and get to the root of the problem quickly. Best of all, she's clinically bright enough to show you compassion and provide the much needed boost to get you healed and on your way. She will never stand in the way of your fitness goals and yet her clinical advice has always been so highly valued. JJ loves what she does and does what she loves. Enough said😊
Grant Kircher
January 29, 2022.
As an active competitor in BJJ in my late 20s, I understand injuries are going to happen but the team at Primal Physical Therapy have been excellent with getting me back on the mats. I typically work with Eric. He really takes the time to understand my activities and goals to personalize my treatment. He is also extremely knowledgeable of the human anatomy and keeps it real by providing honest feedback throughout my treatment. Overall, it is a great experience to work with their team and I highly recommend checking them out.
Villanova Physical Therapy FAQ
Not initially. Our therapists are approved direct access providers in Pennsylvania, which means they can work with you for up to 30 days without a prescription. Following that time, you will need a written prescription from a doctor.
At our state-of-the-art facility, your physical therapist will assess your condition and prescribe a personalized treatment program to help you achieve your goals. In combination with hands-on therapy sessions, we also provide guidance on exercise and rehabilitative strategies that can be performed in the comfort of your own home.
No one is going to force you to do the home exercises but we will teach you how to do them and recommend a regularity for them. Dedicating yourself to the home exercises helps you reach your goals faster and with greater success.
Quite the opposite! The earlier you start treatment, the better chance you have of being pain-free or having a low chance of recurrence. 
Yes! You will always have an individualized plan and meet with your therapist 1-on-1. This allows us to provide outstanding care for all of our patients.